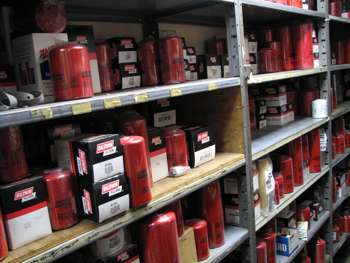 Diego Truck repair has a full parts department. Need a new battery, fuel filter, lights, mirror, brakes, valvues, stitches, or part for your Ford? We have a large selection. Drop by or speak with our parts specialist.
We're a NAPA Truck Service Center
Parts Product Line
Some of the parts that we have in stock. Need something else, just let us know and we'll get it for you.
National Seals
Shop Towels
All O.E. Glow Plugs
Racor Fuel Filters
Spicer U-Joints
Gates Belts / Fuel Caps / Rad Caps / T-Stats
Baldwin Filters
Parker Hydraulic Fittings / Hose (We make hoses also)
O.E. IH Parts
O.E. Ford Parts
Truck / Lite Products / L.E.D.
Mirrors / Spot / Convex
O.E. Chevy Parts
Chrome Parts
Loctite Products
Zep Products
Chevron Oil Products
Allison Transmission Filters and Transmission Fluids
Hino / UD / CAT / Isuzu / Mitsu / IH FIlters All O.E
Alt & Starters in Stk New and Remanufactured
PTO Products
Brake Shoe Kits
GE Lighting
Anco Wiper Blades
Stanadyne Fuel Cond
Redline Products
Cole Hersee Switches & Solenoids
Lift Gate Switches & Solenoids
Stemco Hub Caps & Gaskets
Fuel Prep Products
Direct with Caterpillar / Cummins
Dock Bumpers & Wheel Chocks
Pintle Hitches
D.O.T. Quick Connect Air Fittings
Fire Extinguishers 2.5lb & 5lb
Safety Triangle Kits / Red Flags
Load straps / binders / Tie down straps
Mud flaps – rubber / plastic
Bendix Brake / Slacks / Brake Pots / Drier Kits / D2 Gov
Valves / Switches
Batteries